What to wear for the Cheltenham Festival & Gold Cup
Dress Code, Gold Cup Style & Bespoke Jackets
Racegoers will be looking sharp at the premiere jump racing meet.
In a little over 2 months time Cheltenham Races will be here - so its time to start thinking about your wardrobe for the best jump meet around..
The festival kicks off on Tuesday the 12th of March with Champions day. Proceeded by Ladies day and St Patrick's Thursday, and culminating with Gold Cup Day on Friday 15th March.. For the crowds of fans in attendance its an exhilarating experience and the end to a nail-biting wait to see if their bets have come good.

Whats the official dress code? Cheltenham Dress Code
Whilst the Cheltenham Festival has a reputation for rugged tweeds and country style there is no specific dress code in operation. The official Jockey Club website states
THERE IS NO SPECIFIC RACEDAY STYLE AT CHELTENHAM.

As we race largely during the winter months, the weather can be unpredictable, so we would advise you to dress accordingly.

At The Festival™ presented by Magners many ladies wear hats, but we recommend you have the weather as well as fashion in mind. Gentlemen usually wear a suit or similar in the Club Enclosure and in restaurants and hospitality facilities.


So what to wear? Cheltenham Style for Men
The main thing to be prepared for is the weather. Its an unpredictable time of year so you never know whether to prepare for a sunny spring day, a down-pouring of rain, or extremely cold weather. The trick to dressing well at Cheltenham is layers and textures. The fact that there is no dress code gives you free reign to be creative, inspired and to have some fun. Although be mindful that this is Cheltenham races, and not Royal Ascot. Overt peacock dressing is not the order of the day here. Think muted tones and rugged textures that reflect the time of year and the location.
Either go all out and have a 3pc suit in the same fabric. Or take a more modern approach and wear separates. The choice is yours. But think texture, texture, texture……did i mention texture?

Tweeds and Textured Style - Give it some depth
When I think of Cheltenham i always think of tweeds and textures. It was only a couple of years back that a racehorse donned a full 3 piece tweed suit at the Festival, and if that isn't a statement of intent then i don't know what is.
Look to merchants such as Abraham Moons and Dugdale brothers for the perfect look. Rugged, textured and full of character. Abraham moons Jacketing bunch is a riot of colourful checks in bold designs, and their Shetland and Lambswool bunches featured herringbone, twill and donnegal (shown below left). in more muted tones
Whilst Dugdale Brothers have White Rose and Saxony Tweed (below right) bunches offering a more traditional take on the country look. Think tough robust fabrics, in country shades of browns and greens. Large overchecks are prominent, as are herringbone designs.
Modern Tweed Style - Lighter Weights
For some folk, the traditional heavy tweeds are too much. They like the look and the feel, but not so much the texture and the weight. No problem, the answer lays in blended fabrics. The lighter weight means they are only appropriate for jackets and waistcoats so best to break them up with a nice pair of chinos or cavalry twill.
Standeven do a phenomenal bunch called Glenesk which has some utterly fantastic designs all made from 11oz wool and cashmere. Soft and light to the touch, but still with that tweed check style. Its no exaggeration to say this is one of the best bunches we have seen in a long time, it is that good. It has all the texture, depth and character of tweed, but without the bulk. And the fabrics are proudly woven in Scotland…..whats not to like!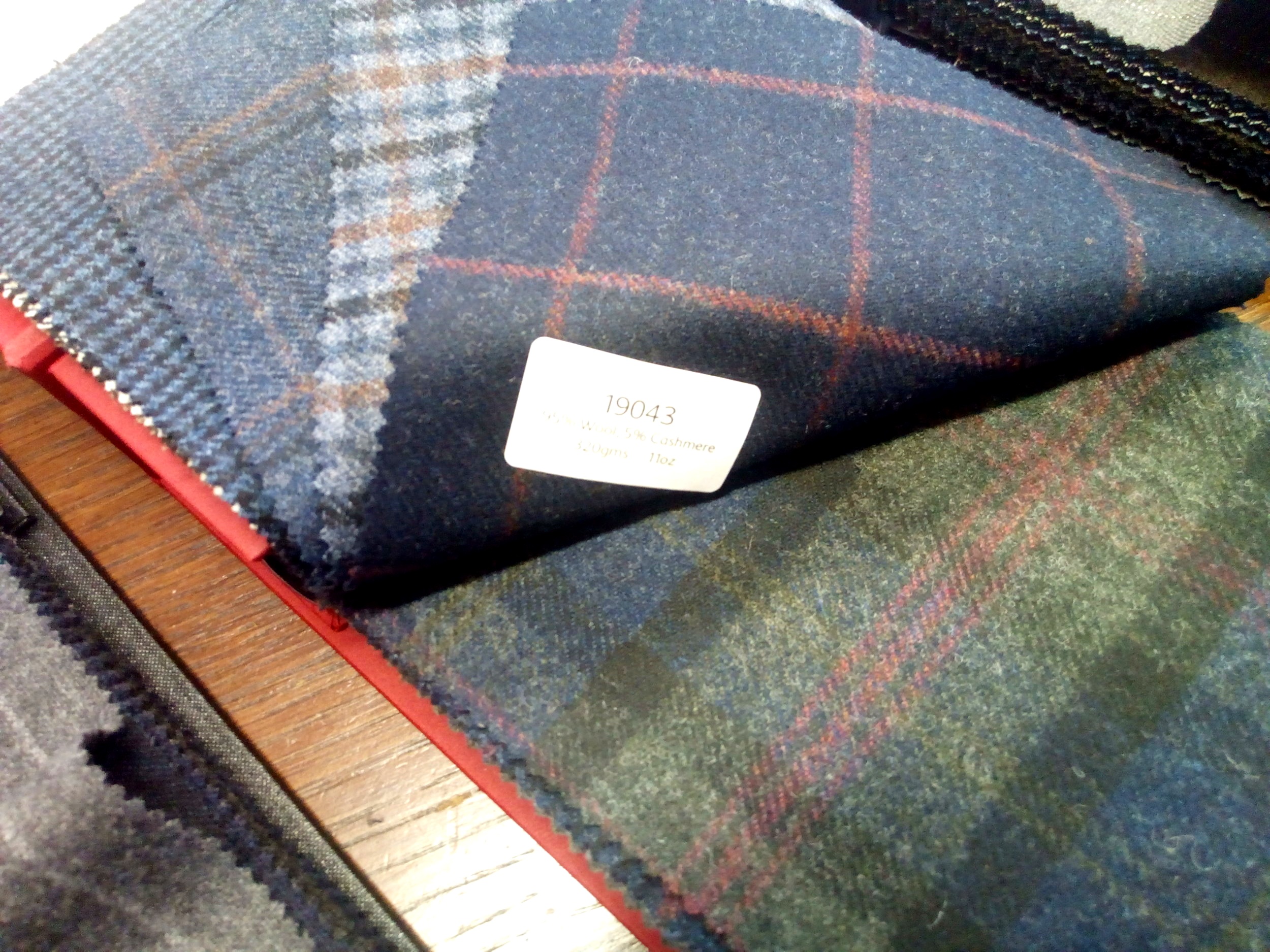 11oz Wool and Cashmere blends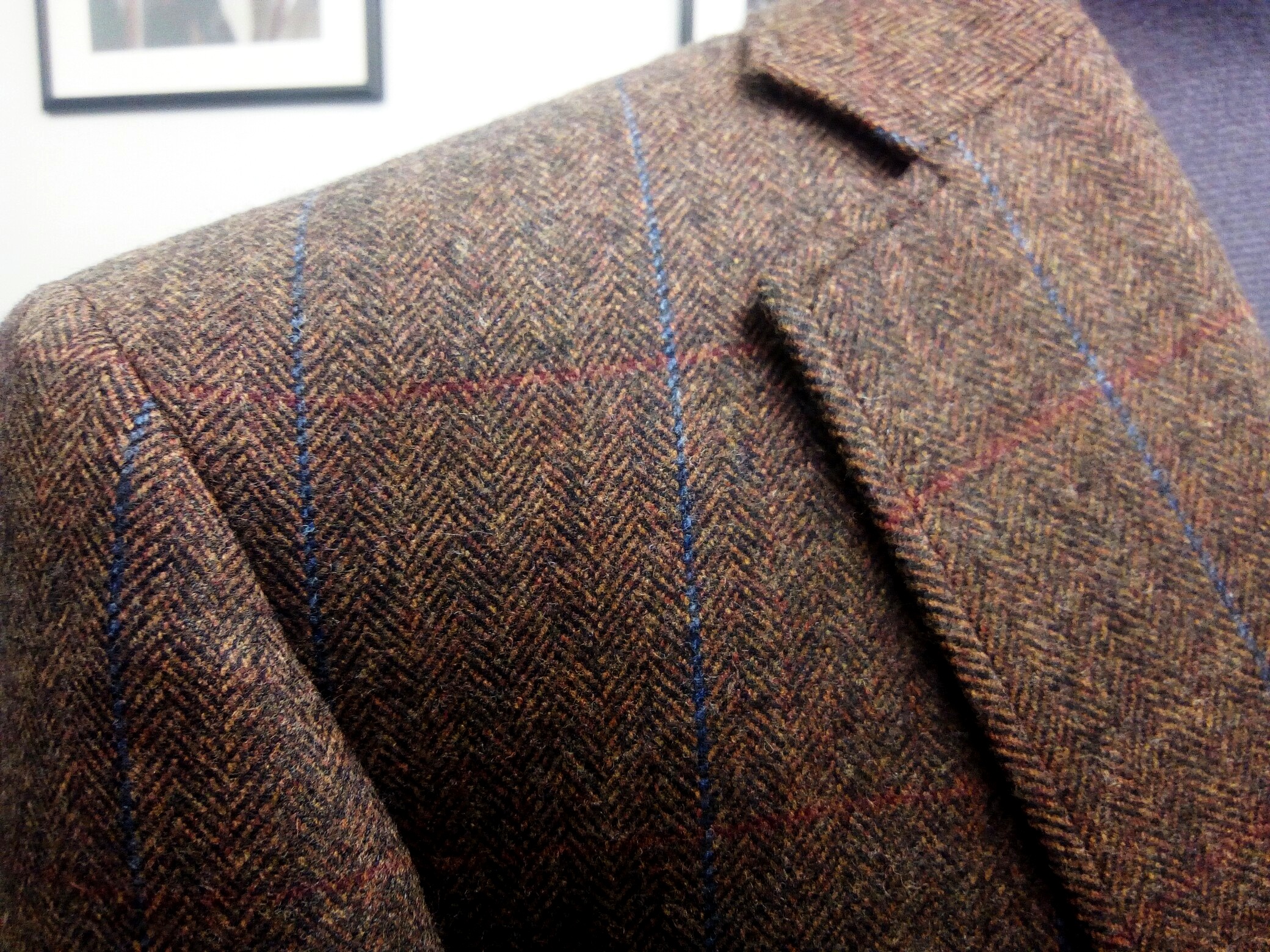 Glenesk | Colmore Tailors
We would also recommend Solbiati from Italy and a bunch called Graffiti. Solbiati are owned by Loro Piana who are renowned the world over for making the Rolls Royce of fabrics. Graffiti is a modern take on country styles featuring blended wool fabrics in houndstooths, checks and herringbones. Weighing around 12oz they are mid-weight fabrics which hold their shape and fight creases excellently. We have used this bunch a lot and the feedback has been superb.
The Peaky Blinder Look
You cannot underestimate the influence that Peaky Blinders has had on men's style. They have given us rugged 3pc suits, herringbones and flat caps….god bless them. And yes, Colmore Tailors know how to do the style……
We have written a full post specifically on Peaky Blinder style - Read it here
First Time at Cheltenham?
2019 will be my second year going to the Gold Cup and the one thing i learnt from the last time was the need for accessories! A compact hat and a pair of gloves are a must, as are proper shoes with a walking sole. There is a lot of time outside and the grass gets rather muddy…. we live and learn! I would advise a baker boy or fatcap style to the hat, and either leather or cashmere gloves. In fact, i picked up a suede Stetson hat this morning from an excellent local shop called Peter Forson in Birmingham. The owner Daisy was very helpful and offered a highly personal service. Check them out here
And to finish here is a picture of me and my close friends at Cheltenham last year. I'm on the left and went all out texture. Solbiati Graffiti Jacket, Abraham Moons donnegal waistcoat and Dugdale flannel Trousers.
My friend Scott in the middle went for a blended wool Di Pray jacket and chinos, whilst Ian on the left wore a 3pc blue glencheck from Vitale Barberis. (all Colmore Tailors) Unfortunately the light doesn't quite pick up all the textures of the garments so i have posted a picture of Scott's Di Pray jacket (standing in the centre) to the right hand side.
Wool Blend Italian Jacketing
Get in touch now to discuss your Cheltenham suiting's and tweeds. Our lead time are around 4-5 weeks, but we also offer a 3 week express service subject to availability. We would advise ordering in January where possible
Speak soon and best of luck on the gee gees!
Scott & The Colmore Tailors Team
t - 07847 483867
Read our other blog posts here
Colmore Tailors are specialists in men's tailored suits, made-to-measure and bespoke. Covering Birmingham, Sutton Coldfield, Solihull and Lichfield. We exist to make you feel your very best.